Alex here, darlings!
If you're new to the blog,
welcome!
I'm one of the eight city girls
that star in the
Ooh La Frou Frou Collection
card line!

For those of you that have
seen my past posts:
do you think of me only as the
Ooh La Frou Frou girl
that loves to entertain
and bake up glamorous desserts
in her lovely kitchen overlooking the city?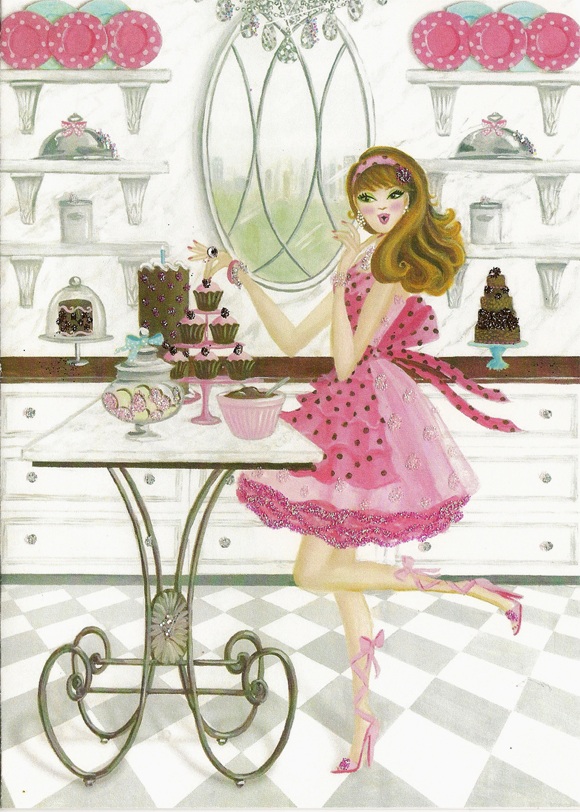 Ooh La Frou Frou Collection "Chocolate Wishes" Birthday card
can be purchased here. (c) Ooh La Frou Frou 2011
Well, I
am
that girl ... but so
much
more
!
I'm not
always
in the kitchen in posh apron coutour,
even though I do
love
dreaming up sweet treats!!
Let's see ...
did you know that Alex is short for Alexandra?
Pretty romantic name, I think, no?
And did you know
that I really, really love the color of my hair?
It is a fiery auburn with golden highlights
that glisten in the sun..
I feel very Nicole Kidman-like
because of the mutual color of our tresses
and I
positively loved
the Chanel print and television campaign of a few years ago!
It was
so me
...
I often wondered what it would have been like
to have been running through the city
with my hair flowing in the wind behind me,
dressed in that
most fabulous
Karl Lagerfeld gown
of pink feathers and sparkle!
Image
via
If you'd like to refresh your memory of this Chanel ad campaign,
take a little trip back in time ..
Yes, just like the rest of the
Ooh La Frou Frou girls,
I'm positively giddy about anything glamourous and girly.
As I pass window displays in the city,
such as this one at Victoria's Secret,
I imagine what it would be like
trying on luscious lingeree and clothing
everyday for a living ...
Image
via
And when I see the fabulous runway shows,
I think how utterly fabulous it would be
to have the opportunity to be dressed in a beautiful gown
like this one from Ellie Saab's Spring 2011 Couture Collection ...
Image
via
or slide my hands into silky long grey gloves
that perfectly accent a Christian Dior gown
from his Spring/Summer 2011 Couture Collection.
And as for magazine photoshoots,
such as this one that appeared in Vogue's November 2010 issue,
I could just imagine myself in Anne Hathaway's place,
dressed in this chic Oscar de la Renta gown,
walking into an old-Hollywood-style dinner club,
maybe with Frank Sinatra crooning softly in the background ...
as a handsome stranger walks up to me and says ...
"Won't you join me, darling, for a glass of champagne ..."
Image
via
Leighton Meester will be starring in
a new 2011 Vera Wang perfume campaign this year ...
I wonder what scenario I will imagine up for this one?
I can guarantee there'll be one.
I
do
think I'd look rather FABulous in this
mermaid style gown that ends in a cloud of softness!
Image
via

One of the really marvelous .. and I do mean marvelous
things about being an Ooh La Frou Frou girl is
that when one of us has a fantasy about a couture gown,
we don't have to contact Rachel Zoe
(although we'd LOVE to!)
We don't have to contact the famous designers.
We simply whisper our fantasies to the artist
and she makes our fantasies come true!

For instance,
don't you love the new 2011 Moet and Chandon campaign
starring the gorgeous Scarlett Johansson?
The first image feels very Marilyn Monroe to me.
Moet and Chandon Images
via
In some shots she looks as if she's the
Lady of the Manor,
leisurely overseeing preparations
as her staff prepares for a very grand soiree ...
Do you think Scarlett may have taken a little afternoon nap,
weary of all the party planning,
and found herself floating through dreamland
with visions of balloons standing in for champagne bubbles?
By the sheer
amount
of champagne flutes below,
it looks as if there are going to be quite a few guests
walking through the door of Scarlett's party.
When I saw the following photo, I admit, I did envision myself in
darling Scarlett's place.
Who wouldn't want to place themselves
in this glamorous French manor
with its gold-leafed moldings and antique mirrors?
And the gown ...
did I mention the GOWN?
In
my
fantasy,
I'd need a little sweet confection to accompany the bubbly.
For
my
ad campaign,
I see myself on the ladder,
holding one of my luscious three-tier cakes
with delicate frosting petals.
on the cake and sprinkled all around.
And what fantasy is complete
without
champagne
bubbles in the air?
What do you think of my fantasy,
Scarlett?